073 I Wheely LOVE Vancouver
Bike Art - Vancouver Skyline made from bike parts. More Bike Art Scenes and larger prints can be found at bikeart.ca
CL072 Big Things
Enjoy the little things.
One day you may look back and realize they were the
BIG THINGS
- Robert Brault
CL001A Monk with Robe Caught
Sorry i'm late - I got caught up!
Happy Belated Birthday
CP003 Snoozing Monks
How beautiful it is to do nothing and then rest afterwards.
- Spanish Proverb
CP016 Be Yourself
Be Yourself. Everyone else is taken.
- Oscar Wilde
CP064 Cuban Tree
Sometimes it's a little better to travel than to arrive.
- Robert M. Pirsig
CP062 Cobra Tree Painted
If you want to be different.
Don't stand out; Be Outstanding!
- Meredith West
CP058 Cherry Blossom Tree
We turn not older with years, but newer every day.
HAPPY BIRTHDAY
CL069 Monarch 4
Let the beauty you love, be what you do.
- Rumi
CP035 Old Monk with Book
The truly educated never graduate.
CP045 Spider Tree
All the wonders you seek are within yourself.
- Sir Thomas Browne
CL052 Single Boat
You cannot discover new oceans unless you have the courage to lose sight of the shore.
- Andre Gide
CP041 Balloons over Began
When you let go of what you are,
you can become what you might be.
- Lao Tzu
CL059 Vancouver Skyline with Geese
The earth has music for those who listen.
- George Santayana
CL061 Vancouver Skyline LE Painted
The real voyage of discovery consists of not in seeking new landscapes, but in having new eyes.
- Marcel Proust
CP065 Vancouver Rain
Without rain, there would be no rainbow.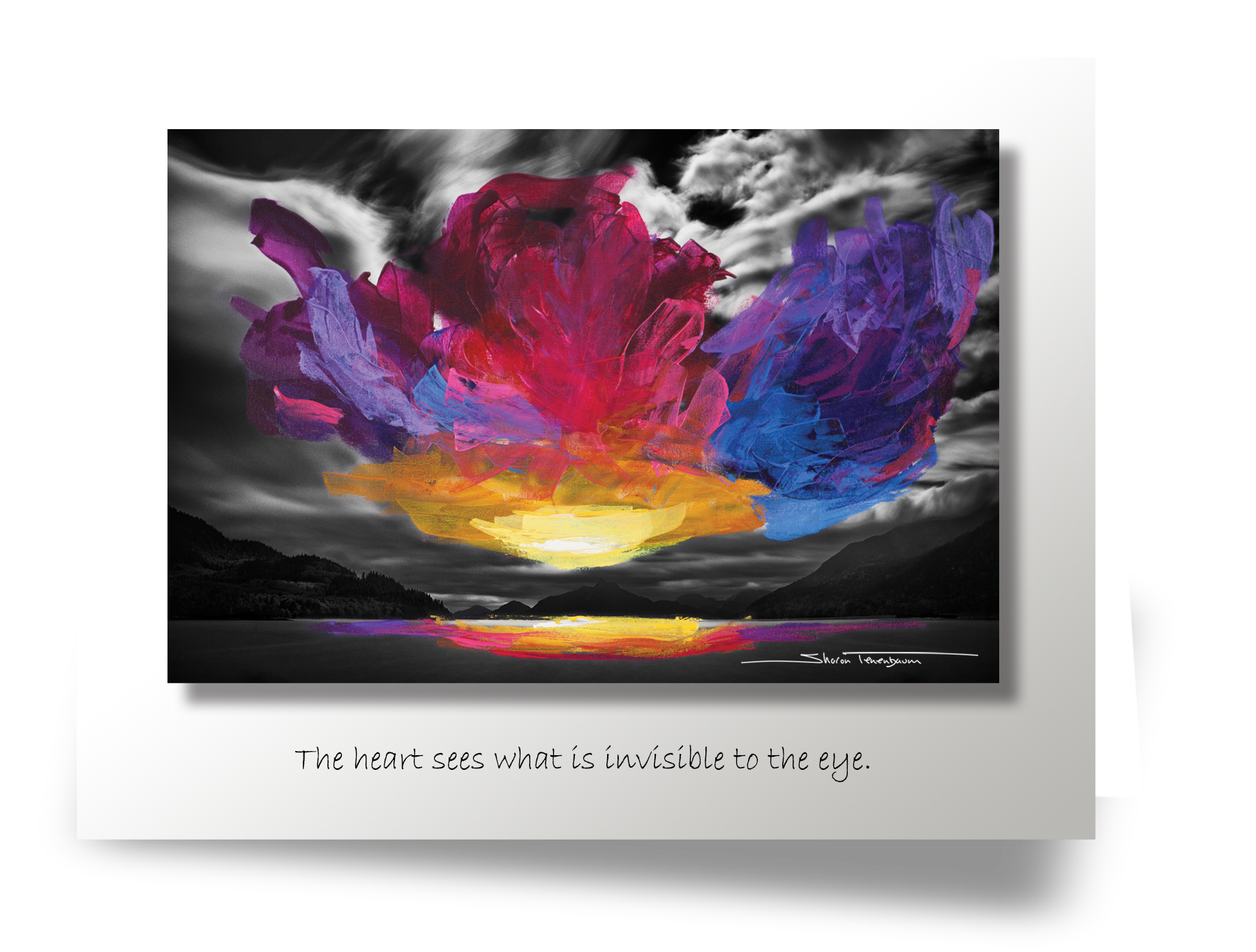 CL067 Howe Sound Sky
The heart sees what is invisible to the eye.
CP010 Bundi Birds
The best and most beautiful things in the world cannot be seen or even touched, they must be felt with the heart.
-Helen Keller
CL021 Autumn Tree
Every end is a new beginning
CP067 Butterfly
Expect to outgrow your limitations
CL004 Blue Rock
Music is what feelings sound like
CL019 Lighthouse
Out of suffering have emerged the strongest souls; the most massive characters are seared with scars.
- Kahlil Gibran
CP063 Galiano Tree
Thank you for being there
CL033 Vasco de Gama Bridge
Nobody crossed an ocean by merely staring at the water.
CP039 Nun and Temples
What lies behind us and what lies before us are tiny matters compared to what lies within us.
- Ralph Waldo Emerson
CP040 Badmington
Life is too important to be taken seriously.
- Oscar Wilde
CP046 Two Fishermen
There is more to life than increasing its speed.
Gandhi
CP048 Clown with Bubble
Don't let anyone burst your bubble!
CP050 Holding Hands
Someday, someone will walk into your life and make you realize
why it didn't work out with anybody else.
CL055 Five Boats
Smooth seas do not make skillful sailors.
- African Proverb
CP051 Monk Crossing Bridge
It is the bridges we cross that lead us to our destiny.
CL056 Falling Apart
Sometimes when things appear to be falling apart,
they may actually be falling into place.
CL060 Vancouver Skyline LE
Some things you just can'r bring back in your suitcase.
CP066 Stanley Park Autumn
Logic will get you from A to B,
Imagination will take you everywhere.
- Albert Einstein
CL070 Monarch Purple Field
Where ever you go, go with your heart.
- Confucius
CL071 Vancouver Skyline IR
One's destination is never a place, but a new way of seeing things.
- Henry Miller
CL002 Monk and Motorcycle
Wherever you go, go with your heart.
- Confucous
CL006 Single Rock Stack
We come into this world head first and leave feet first. In between it is all a matter of balance.
- Paul Boese
CL005 Woman with Cigar
Sometimes a cigar is just a cigar.
- Attributed to Sigmond Freud